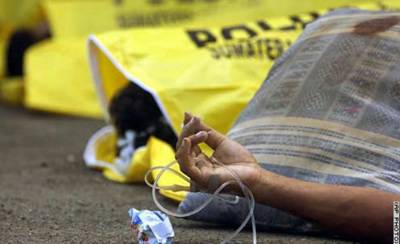 As we enter 2005, may we remember the thousands that won't be joining us...
Please donate if you can to the South Asia earthquake and Tsunami disaster relief efforts. You can make a minimum donation of US$5.00 to the American Red Cross here. Don't just stare at the news on tv. Do something and donate.
"Those weapons of mass destruction have got to be somewhere." - George W. Bush (March 24, 2004)
Fetus Spears
SomethingSomething
Darth Vader
Sinner's Ark
I HATE MUSIC
Mulch
Brand New Malaysia
e pur si muove
I Really Don't Know
Illusio
Mr Wang Bakes Good Karma
The Police State
Matrix Singapore
The Reader's Eye
Sayoni
Singaland
Singapore Rebel (the blog)
Singapore Rebel (the film)
Xeno Boy
Yawning Bread
The Knight Shift
Melanie "Mad Cow" Phillips
Pentagonlies (cool conspiracy theory video!)
Sorry Everybody
System of a Down
Wake Up & Smell the Fascism
Pink Dome
Take the Political Test
Vox Day
"I'm jacking your wheelbarrel bitch!"